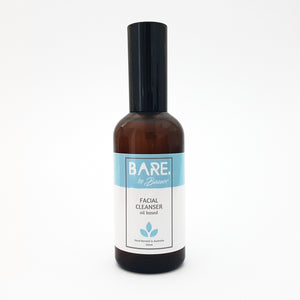 Face Cleanser - OIL CLEANSER
Regular price $32.95 Sale
Face Cleanser 100ml - Wash away the sweat, dirt & makeup with ease!
FACT: Oil dissolves oil.
FACT: The skin's sebum is an oily substance.
FACT: BARE's oil cleanser will wash away impurities & grime with ease.
FACT: This can be made into a gentle exfoliator by simply mixing with a little fine pink salt or raw sugar.

It might sound counterintuitive to wash your face with oil, but don't let skepticism hold you back. Suitable for all skin types, our luxurious facial cleanser will amaze you with its effortless abilities to remove sweat, dirt and even the most stubborn of makeup, leaving your face clean, soft, balanced and hydrated. Conventional detergent and soap based cleansers are out & traditional oil cleansers are back; we offer a totally natural alternative that will moisturise and nourish your foxy face.
Combine the cleanser with our Reusable Face Wipes for the perfect makeup removal team! Follow with our Rosewater facial spray, then your favourite BARE facial serum. Shop safe knowing BARE's got your back... and your face!
**HOT TIP** If you are after a facial exfoliator, simply mix our Oil Cleanser with some fine Himalayan pink salt, sea salt, organic sugar OR organic coffee grinds to gently exfoliate the skin, leaving it super soft & supple!!! Winner Winner!! 
Method Behind the Madness:
Castor oil - an age old remedy packed with fatty acids, vitamin E & antioxidants to restore the skins natural moisture balance, boost collagen production & soften the skin, whilst being antibacterial & anti-inflammatory 
Jojoba oil - lightweight, gentle & non-comedogenic, this delicate oil contains nutrients like zinc, iodine & vitamin B that easily penetrate the skins pores to lift away grime & provide deep nourishment & healing
Macadamia oil - hypoallergenic & rich in vitamin E & oleic acid to nourish skin & promote cellular regeneration 
Almond oil - anti-inflammatory, contains vitamin A to foster cell growth & nurture a healthy glow
Cedarwood essential oil - warm, comforting & soothing, excellent for aiding skin tightening & pore refining, assists in toxin removal
Bergamot essential oil - assists in skin healing to reduce scars, marks & pigmentation to even skin tone whilst boosting mood & reducing tension 
Palmarosa essential oil - soft yet uplifting, skin balancing & refreshing, stimulates cell rejuvenation
Directions:
Shake bottle well then pump a few squirts of oil on your hands and massage all over wet face (the longer the better). For best results, using a warm wash cloth, place over face and let the warmth and steam open up your pores for 10-30 seconds. Repeat this steam process for a more relaxing facial. Then simply wipe face clean with wash cloth or rinse with warm water.
Repeat oil cleansing method if wearing heavy makeup so that the oils can really penetrate the skin and work their magic!
Follow with our Rosewater facial spray then your favourite BARE facial serum.
***This is packaged in a glass bottle to maintain freshness and help our environment, so be careful in the shower. Always pick up the oil cleanser via the glass bottle and not the lid so it doesn't slip :) 
Ingredients:
Love, ricinus communis (castor) oil*, simmondsia chinensis (jojoba) oil*, macadamia integrifolia (macadamia) oil**, punus dulcis (almond) oil**, cedrus atlantica (cedarwood) essential oil*, citrus bergamia (bergamot) essential oil*, cymbopogon martini (palmarosa) essential oil*.
*Organic ingredient.
**Cold pressed, non-gmo, preservative & chemical free.
'LOVE' is the special ingredient that separates us from the rest! Click here to learn how we blend LOVE into each item.
Special Notes:
Whilst all our BARE products are created for sensitive skin, we recommend spot testing your new product prior to use. External use only. Do not apply over open wounds, broken skin, or sensitive areas of the body. If ingested, or a reaction develops, seek medical advice. Keep out of reach of children. Products may contain traces of nuts.