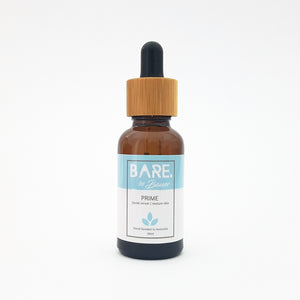 Facial Serum - PRIME
Regular price $26.95 Sale
Formulated for faces in their Prime (25yrs+)!
Here at BARE, were anti-chemicals, anti-animal testing, anti-war, anti-bullcr@p... and now, thanks to PRIME Facial Serum, were ANTI-AGING too! This gorgeous product can hydrate and soften like no other, and nourish better than yo-mumma! Plus, thanks to its fast absorption, you can use it morning, noon or night :)
PRIME is designed for those 25 years and older - in your prime. (But can be used for all skin types too).
Not sure which BARE facial serum will feed your face best? Narrow down the selection here!
Method Behind the Madness:
Jojoba Oil - this 'liquid gold' emollient not only protects the skin & balances sebum, but also stimulates collagen synthesis (helps retain plump, youthful skin)
Macadamia Oil - closely matched to skins sebum, this oil is easily absorbed but nourishing, and is naturally high in vitamin E, oleic acid & squalene to assist with cell regeneration, protection & healing
Sweet Almond Oil - rich in antioxidants & vitamin A to reduce inflammation & free radical damage
Vitamin E - this powerhouse contains an abundance of antioxidants which can fight inflammation & can promote youthful skin
Frankincense Essential Oil - used for centuries to strengthen, tone, & heal skin, and support the body's natural ability to age gracefully
Carrot Seed Essential Oil - this little guy is the quiet achiever boasting incredible antioxidants to support skin health & rejuvenation 
Sweet Orange Essential Oil - containing large amounts of vitamin c, this 'liquid sunshine' can awaken your skin & your mind, help fight signs of ageing such as fine lines & dark spots, and promote collagen production to tighten skin
Patchouli Essential Oil - best known for its ability to alleviate tension & help with the appearance of wrinkles & blemishes due to its skin rejuvenating properties
Directions:
Use 2-3 drops on your hands, and gently massage the BARE love into your clean face, neck and décolletage - once or twice daily (let your skin guide you). Keep away from your eyes. Shake well before use. Store in a cool dry place out of direct sunlight.
Ingredients:
Love, simmondsia chinensis (jojoba) oil*, macadamia integrifolia (macadamia) oil**, prunus dulcis (sweet almond) oil**, tocopherols from non-GMO sources (vitamin E), boswellia carteri (frankincense) essential oil, daucus carota (carrot seed) essential oil, citrus sinensis (sweet orange) essential oil, pogostemon cablin (patchouli) essential oil.
**Cold pressed, non-GMO, preservative & chemical free.
*Organic ingredient.
'LOVE' is the special ingredient that separates us from the rest! Click here to learn how we blend LOVE into each item.
Special Notes:
Whilst all our BARE products are created for sensitive skin, we recommend spot testing your new product prior to use. External use only. Do not apply over open wounds, broken skin or around eyes. If ingested, or a reaction develops, seek medical advice. Keep out of reach of children. Products may contain traces of nuts.