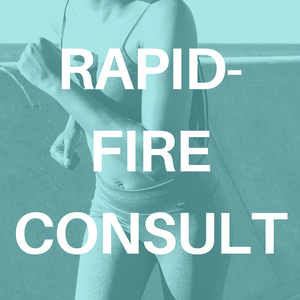 Appointments - RAPID-FIRE CONSULT
Regular price $34.95 Sale
RAPID-FIRE CONSULT - A fun, fast-paced 20 minute consult with Candice
20 minute Private Session
This is one of our favourite services, designed for anyone, no matter where you are on your health journey. Book your appointment, send through your burning questions before the meeting, and come game day, its game-on with the Rapid-Fire consult! 
Note: This service is can be done in person, & via Phone, Skype or Facetime. Additional fees may apply for an in-home consultation depending on location. Candice is based in Bargara QLD Australia, but travels as requested. Contact us for a 10 minute obligation free chat as to how this service might benefit you, or a free quote to include travel fees or other tailored services. 
What to expect:
Subjects covered can be tailored to suit your individual goals 
Supporting your immune system naturally
Making the switch to healthier, toxin free alternatives (such as cookware, mattresses, clothing etc)
How to incorporate more wholefoods into your diet
Switching to organic produce on a budget
Introducing and incorporating fermented foods into your life
Learning how to avoid gluten and choosing gluten free options
Upgrading your life by upgrading your water quality (finding the best filter for your lifestyle and budget)
General wellness check-in to identify any areas of your life that may benefit from modifications
Making your favourite recipes healthier
A crash course on reading ingredient labels
Low toxin cleaning
Pre-conception, pregnancy, post-partum and breastfeeding wellness check to ensure you are incorporating the most nutritious foods possible
Optimising your daily routines
Cleaning up your skin from the inside out
Getting better sleep
Finding the best practitioner for you (sick of "doctor" shopping but don't know who can help you, if it is something that I can't help you with, let me do the leg work and find the right practitioner for you)
Or anything else you are interested in learning more about, need guidance with or want to improve
And more...

How to book:
Once you have purchased your consult or service, simply reach out via the following options to book a suitable time:
Special Notes:
We understand schedules are busy, so we will work with you to find a time that suits all parties. Due to time restrictions, we recommend you specify exactly which subjects you specifically wish to cover so that 'no rock is left un-turned' by the end of your appointment.
*20% discount valid on BARE by Bauer branded products only. Excludes Value Range, gift vouchers & sale items