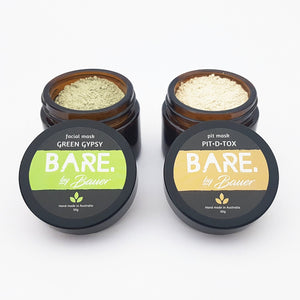 Value Pack - DETOX
Regular price $32.95 Sale
Value Pack - DETOX to lighten the daily load!
We love giving value to our customers, so we have put together a range of packs for any occasion.
DETOX pack includes:
Pit Detox Mask - PIT'D'TOX - If your looking to turn your back on nasty conventional deodorants and see if the grass is greener on the BARE side, then that's awesome news! Its exciting to make a big switch like this and we want you to know BARE will hold your hand each step of the way :) The transition varies for lots of people, due to body type, food's you eat, water you drink and other variables. So, before you jump head first from chemicals to naturals, we have specially created a five day pit detox mask. This blend can aid in drawing out impurities or toxins that may have been building up in your body for years through chemical-filled deodorants, medication, environmental pollutants, foods, etc. We recommend using once a day, for five days, which can make for a smoother transition to natural deodorant. It is also great for anybody already using BARE deodorant to help keep your pits in prime condition - It may just give your lymph system that extra helping hand it needs.
Facial Mask - GREEN GYPSY - Packed full of antioxidants, vitamins, minerals and skin loving goodness, our face masks will seek can seek out impurities, feed your face and leave it with a new sense of clarity... And it can be warn to help you scare the heck out of unsuspecting family in a dark room!
BARE's DETOX Value Pack makes for a great present any time of year :)