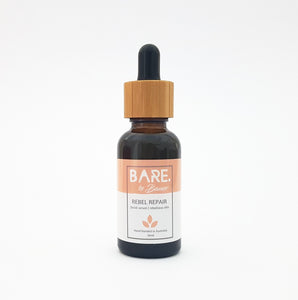 Facial Serum - REBEL REPAIR
Regular price $26.95 Sale
For problematic skin that needs taming!
BARE cant stop you from blushing when that cutie walks your way, but if its blemishes your trying to hide then you'll want to look our way. REBEL REPAIR is crafted to target blemishes, yet be gentle, soothing and nourishing. Plus, thanks to its fast absorption, you can use it morning, noon or night :) With BARE REBEL REPAIR, you can tell those blemishes to bounce.
Not sure which BARE facial serum will feed your face best? Narrow down the selection here!
Method Behind the Madness:
Hempseed oil - packed full of essential fatty acids & linoleic acid to assist with hydration, repair & inflammation
Jojoba oil - very close to our skins natural sebum, this 'liquid gold' helps protect our skin from environmental toxins & harmful bacteria
Vitamin E - this powerhouse contains an abundance of antioxidants which can fight inflammation & can promote youthful skin
Frankincense essential oil - used for centuries to heal the skin & body whilst promoting youthful aging
Palmarosa essential oil - considered to be a superior antibacterial oil and an excellent skin balancing oil
Tea tree essential oil - known for its antiseptic & anti-inflammatory actions, this gem targets one of the most common causes of acne, bacteria. It may also assist with healing blemishes
Lavender essential oil - full of antioxidants to soothe, heal & improve complexion
Directions:
Use 2-3 drops on your hands, and gently massage the BARE love into your clean face, neck and décolletage - once or twice daily (let your skin guide you). Keep away from your eyes. Shake well before use. Store in a cool dry place out of direct sunlight.
Ingredients:
Love, cannabis sativa (hempseed) oil**, simmondsia chinensis (jojoba) oil*, tocopherols from non-GMO sources (vitamin E), boswellia carteri (frankincense) essential oil*, cymbopogon martini (palmarosa) essential oil*, melaleuca alternifolia (tea tree) essential oil, lavandula angustifolia (lavender) essential oil*.
*Organic ingredient.
**Cold pressed, non-GMO, preservative & chemical free.
'LOVE' is the special ingredient that separates us from the rest! Click here to learn how we blend LOVE into each item.
Special Notes:
Whilst all our BARE products are created for sensitive skin, we recommend spot testing your new product prior to use. External use only. Do not apply over open wounds, broken skin or around eyes. If ingested, or a reaction develops, seek medical advice. Keep out of reach of children. Products may contain traces of nuts.